Downtown Street Scenes
Downtown Street Scenes is offered as a cohesive collection.
Twenty 20x20" Original Acrylic Paintings on Cradled Birch Panel.
Introduction to the Series:
Explore the unique and varied architectural treasures found in the City of Calgary's core, in the first unified body of work created by emerging visual artist Ashley Oshiro. The Downtown Street Scenes series is a collection of twenty original pieces which focus on locations made meaningful by the intersection of their physical, historical and cultural significance. Reflecting images that were captured by Oshiro in the spring of 2018, each piece utilizes vibrant and bold colors in order to captivate and invoke an invitation to explore.
For Oshiro, downtown Calgary is first a place of remembrance. As a child living in the suburbs, weekly lunch trips downtown with her mother and siblings meant being able to explore the tall gleaming towers where her father worked as part of the city's oil and gas industry. The centrally located Chinatown was a weekend destination, an opportunity to embrace her Chinese-Canadian heritage by attending Chinese school and having dim sum with grandparents who lived in the area. Familiar destinations and landmarks throughout downtown Calgary were central to annual family festivities including New Years Eve, Christmas and Canada Day. Like many fellow Calgarians, Oshiro's embrace of downtown Calgary continued into adulthood as the area's ongoing and developing nightlife, arts, theater and dining scene constantly provides occasions to return.
Downtown Street Scenes is currently on exhibition at Vertigo Theater until July 2019 and will be on exhibition at the Calgary New Central Library September 2019. Prints are now available to purchase online!
No. 1 – '7th Ave. and Centre St.'
20x20" Acrylic on Cradled Birch Panel
The reference photograph for this piece was taken on the Centre Street CTrain platform overlooking the historic St. Regis Hotel which was built in 1912 and hosted a bar frequented by former Calgary Mayor and Alberta Premier Ralph Klein. West of the hotel is the Royal Canadian Legion Calgary (Alberta No. 1) Branch which opened in 1922 and commemorates the sacrifices made by Canadian servicemen during WWI. Calgary's Light Rail Transit (LRT) System "CTrain" began operation in 1981 under the care of then Mayor Klein. This piece showcases a Siemens SD-160 unit.
No. 2 – 'Centre Street Bridge'
20x20" Acrylic on Cradled Birch Panel
This scene was taken standing on the upper deck of the Centre Street Bridge, peering into Chinatown. Two of the four iconic cast concrete lions can be seen standing guard on the south side of the bridge. Originally built in 1916, the bridge serves as the central reference point for Calgary's quadrant system. Major restorations were completed on the bridge in 2001 where all four original concrete lions were replaced by replicas. Downtown Calgary is home to many pieces of public art and Oshiro chose to make one vibrant public art banner the focal point of this particular painting.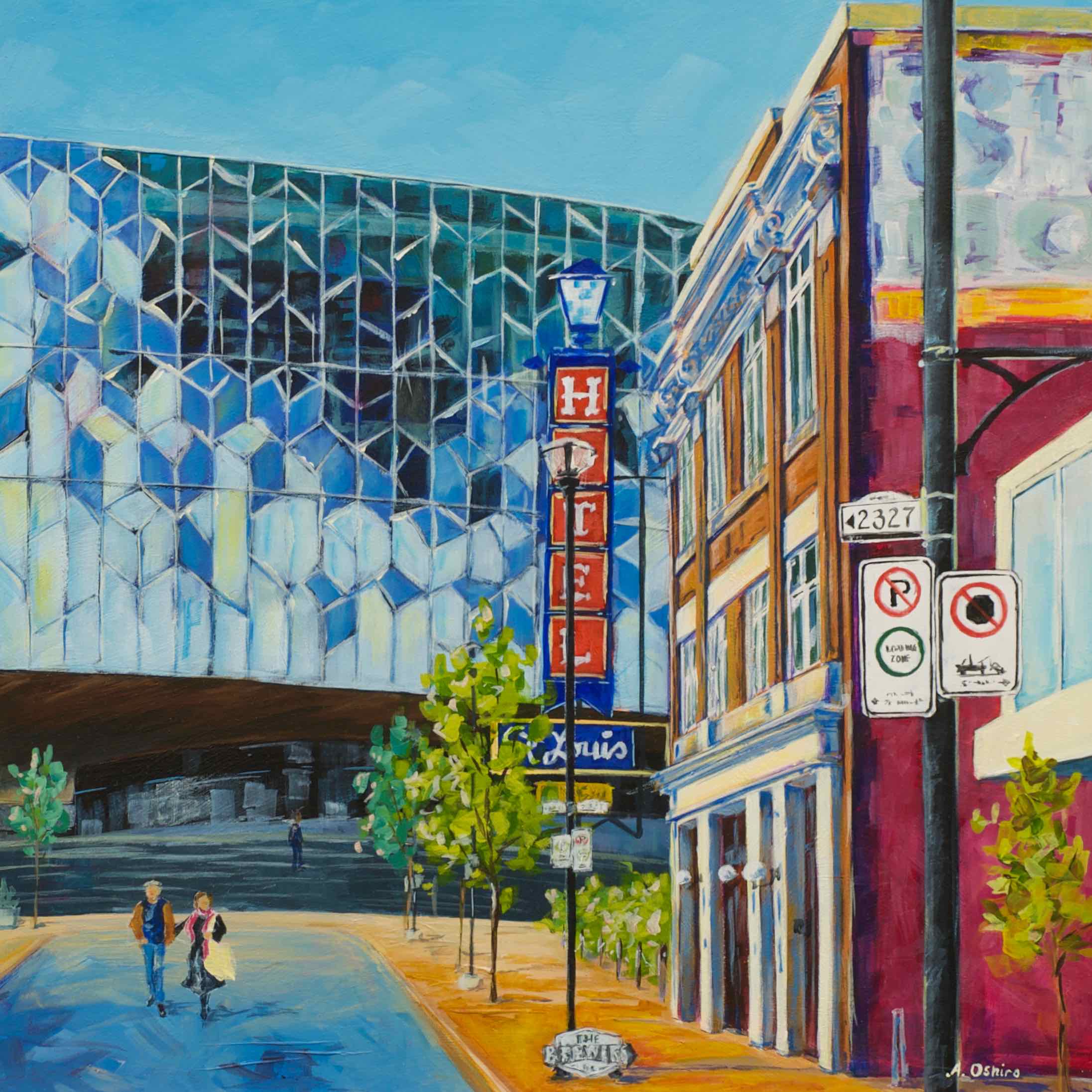 No. 3 – '8th Ave. and 4th St. SE'
20x20" Acrylic on Cradled Birch Panel
This piece features both the old and new in downtown East Village. The New Central Library (NCL) first opened its doors to the public on November 1, 2018 and was designed by two architectural firms: Snøhetta and DIALOG at a cost of $245,000,000. At the time of this painting, the Calgary Public Library was holding a campaign for people to "purchase" windows to add personal inscriptions ranging from $100 to $5,000. East of the library is the St. Louis Hotel (1914) which was known for its imaginary "Indoor Horse Races". The hotel was purchased and restored by the Calgary Municipal Land Corporation (CMLC) and currently serves as the CMLC's head office.
No. 4 – '8th Ave. and 1st St. SW - The Conversation'
20x20" Acrylic on Cradled Birch Panel
A well-known public art piece in Calgary is "The Conversation" by Ontario sculptor William McElcheran (1927-1999). The Conversation is one of McElcheran's many bronze sculptures throughout Canada featuring his iconic "Businessman" character. These statues were donated to the City of Calgary by Norcen Energy Resources and were installed on Stephen Avenue in 1981.
No. 5 - '8th Ave. and 1st St. SW – Scotia Bank'
20x20" Acrylic on Cradled Birch Panel
The Bank of Nova Scotia on Stephen Avenue was constructed in 1930 and operated as a bank until 1976. It is now the home of The Bank & Baron P.U.B. In the distance is one of Calgary's most well known landmarks, the Calgary Tower. This 190.8 meter tall observation tower was open to the public in 1968.
No. 6 – '8th Ave. and 2nd St. SW'
20x20" Acrylic on Cradled Birch Panel
Stephen Avenue was named after Sir George Stephen who was the first president of the Canadian Pacific Railway. The street itself was named a Canadian historic site in 2002. The blue glass building is the CORE Shopping Centre, the hub of Calgary's Plus 15 skywalk system.
No. 7 – '10A St. and Kensington Rd. NW'
20x20" Acrylic on Cradled Birch Panel
Many Calgarians enjoy coffee at the Starbucks Building in Kensington, Calgary. This historic brick commercial building was built in 1911 and once housed an ice cream parlor.
No. 8 – '4th Ave. and 1st St. SW'
20x20" Acrylic on Cradled Birch Panel
"Weaving Fence and Horn" by Ontario artist John McEwan is made entirely of recycled steel and was installed June 2002 in front of TransCanada Tower. This piece was inspired by a rocky mountain sheep's horn. In this painting, TransCanada Tower and Fifth Avenue Place are joined by Calgary's Plus 15 system, pedestrian bridges built approximately 15 feet above street level.
No. 9 – '12th St. and Zoo Rd. NE'
20x20" Acrylic on Cradled Birch Panel
St. Patrick's Island is one of Calgary's oldest public parks. Development of this greenspace began in the 1890's. It recently underwent extensive redevelopment and re-opened to the public in 2015. St. Patrick's Island is a great place to picnic with the family and children are able to enjoy "The Playmound's" playground. This is the view from "Confluence Plaza" which overlooks the Bow River and downtown Calgary.
No. 10 – 'St. Patrick's Island – Trout Beach'
20x20" Acrylic on Cradled Birch Panel
This is the view from "The Seasonal Breach" area on St. Patrick's Island Park, an area where people can relax and wade into the Bow River. In the background is the George C. King Bridge (aka. "Skipping Stone Bridge") and "Bloom", a 23 meter tall flower sculpture made of connected streetlights by Montreal artist Michel de Broin.
No. 11 – '8th Ave. and 1st St. SW – The Bay'
20x20" Acrylic on Cradled Birch Panel
The Hudson's Bay Company Department Store (1913) is known for its wraparound arcade with granite columns and rounded arches. HBC was founded in London in 1670 and began as a fur trading business. Today, Hudson's Bay is a chain of 90 department stores in Canada and the Netherlands. This 6 story building in Calgary was HBC's first ever downtown department store.
No. 12 – 'Peace Bridge'
20x20" Acrylic on Cradled Birch Panel
The Peace Bridge (2012) is a pedestrian bridge crossing the Bow River in Calgary. It was designed and manufactured in Spain and shipped to Calgary. It is uniquely helical in shape and was designed to have no piers in the water in order to minimize its ecological footprint. This piece features Oshiro's two young daughters (3 and 5 years old).
No. 13 – '228 – 8th Ave. SE'
20x20" Acrylic on Cradled Birch Panel
The Olympic Plaza was built for the 1988 Winter Olympics medal presentation ceremonies and features a reflecting pond in the summer and skating rink in the winter. In May 2017, Carson McCulloch Associates installed "I am not a Gopher" – an art installation which features 95 Richardson's Ground Squirrels. Olympic Plaza is the central location to many City of Calgary annual festivities.
No. 14 – '515 - 557 1st Street SE'
20x20" Acrylic on Cradled Birch Panel
"Brotherhood of Mankind" (aka. "Family of Man") was created by Spanish artist Mario Armengol (1909-1995) and consists of ten 6.5m tall aluminum figures. It was first displayed in 1967 at the Montreal Expo and then purchased by a Calgarian who donated it to The City of Calgary. It was installed outside of the former Calgary Board of Education (CBE) building in 1968 and its image is still part of the CBE's logo.
No. 15 – '116 – 2nd Ave. SW'
20x20" Acrylic on Cradled Birch Panel
Welcome to Calgary's Chinatown! The Chinese Cultural Centre (1992) was modelled after the 'Hall of Prayers' in Beijing's famed 'Temple of Heaven'. The 21m high ceiling is decorated with gold dragons and phoenixes. The artist's late grandfather lived in Wai Kwan Manor, the tall senior citizens apartment building on the left. The artist spent 8 years taking Chinese school in both the building on the right and the Chinese Cultural Centre.
No. 16 – '8th Ave. and 1st St. SW – Lunchtime Stroll'
20x20" Acrylic on Cradled Birch Panel
Stephen Avenue is a major pedestrian mall and is open to vehicles only from 6PM to 6AM. Calgarians are able to walk the street and enjoy the beautiful and historic sandstone buildings which hold many restaurants, coffee shops and boutiques.
No. 17 - '7th Ave. and 1st St. SW'
20x20" Acrylic on Cradled Birch Panel
The First Street SW Station is the platform that the artist used daily when commuting to work. Across the street is the historic Delamere Block (1912) – a two story brick building which is now owned by Heritage Property Corporation, a company which is planning to one day rehabilitate this property. The Siemens-Duewag U2 was the original model of car used when the CTrain system began operation in 1981. In the background is the Hyatt Regency Calgary hotel.
No. 18 – '1133 Kensington Rd. NW'
20x20" Acrylic on Cradled Birch Panel
Standing in front of Plaza Theatre is a view of Kensington Village. This trendy neighborhood is just north of downtown Calgary and has many unique stores, coffee shops and restaurants. The artist has always wanted to paint Pointe Building, which is the iconic flatiron style building shown in the distance.
No. 19 – '500 Centre Street S'
20x20" Acrylic on Cradled Birch Panel
"Wonderland" (2012) is a 12 meter tall painted stainless steel sculpture by Spanish artist Jaume Plensa and was commissioned by EnCana Corporation and Cenovus Energy. It was inspired by a 12 year old girl named Anna and sits in front of The Bow, which is Calgary's second tallest office tower. The Bow is one of Calgary's most spectacular buildings and is featured throughout Downtown Street Scenes. The view from the building's 54th floor "Sky Garden" is jaw dropping with a panoramic view of the city and Calgary Tower below.
No. 20 – '8th Ave. and 3rd St. SW'
20x20" Acrylic on Cradled Birch Panel
A familiar site on Stephen Avenue, "Galleria Trees" consists of 10 metal tree sculptures specifically designed to reduce gusts of wind between Bankers Hall and Home Oil Tower. The view at night is spectacular when the sculptures light up in different colors.
No. 21 – 'Centre Street Bridge and Memorial Drive NW'
20x20" Acrylic on Cradled Birch Panel
This is a view of Centre Street Bridge from the walking path on Memorial Drive. On June 19, 2013, after days of heavy rainfall, Calgary experienced one of the biggest floods in Alberta's history. The city's downtown core was evacuated and the Bow River rose to a record level of 4.09 meters. Calgary's Chinatown was hit especially hard by the floods and the artist was able to help bring lunches to senior residents unable to evacuate from their apartment buildings the week after the floods.